Go Back in Time and Take the Modern Comforts with You.
Let us begin by saying if you're already staying in New Orleans, you can definitely experience the grandeur of Plantation Country on a day-trip without moving your stuff to a Baton Rouge-area hotel. If you're a huge fan of Gone with the Wind, however, and want to visit as many grand plantations as you can, well, fiddle-dee-dee (as Miss Scarlett used to say), we can recommend two great places to stay.
Richmond Inn & Suites
Richmond Inn & Suites is a modern, all-suite hotel not far from downtown Baton Rouge, about an hour from the New Orleans French Quarter. Each of their suites features a separate living area, a fully equipped kitchen, luxurious baths, and free WiFi. Guests also enjoy the fitness center and outdoor pool and basketball court.
Richmond Inn & Suites is a great choice if you're traveling with family or want to spend time exploring the history and attractions in downtown Baton Rouge as well as Louisiana plantation homes. The hotel is close to variety of great restaurants, making it all the more convenient.
Daily breakfast is included.

The Inn at Houmas House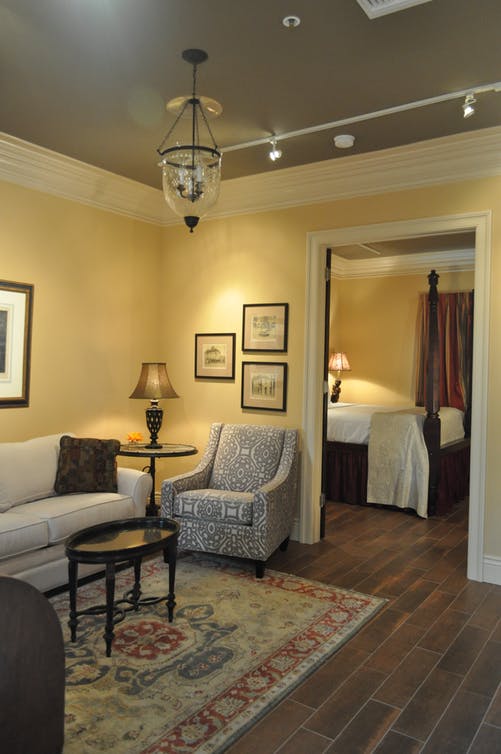 If you're a B&B person and have always dreamed of staying in a cottage on the grounds of a real plantation, you can do no better than the Inn at Houmas House Plantation and Gardens.
Located on Louisiana's Old River Road in Darrow (just before Baton Rouge if you're driving up from New Orleans), the Inn at Houmas House gives you the chance to live like a sugar baron while enjoying all the modern amenities.
When you're not plantation hopping, you can sit on your own front porch, sipping a cold mint julep with a breathtaking view of moss-draped live oaks and breathtaking gardens. Better yet, you can dine or just enjoy a cool libation at one of the bars or restaurants at Houmas House.
Breakfast and a tour of the mansion are included in your stay.
Learn more about Louisiana plantations and tours to Plantation Country from New Orleans.