Sully Mansion
Overview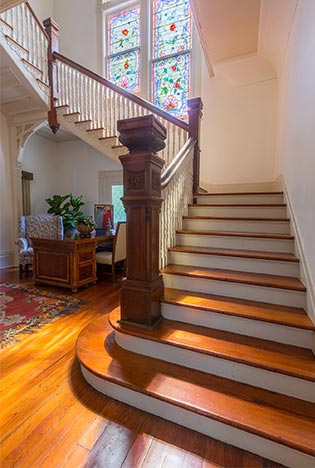 Designed by renowned New Orleans architect Thomas Sully in 1890, this lovely Queen Anne home combines the charm of another era with modern conveniences. This boutique inn is located in the center of the New Orleans Garden District just steps away from all of the local favorites. Spend your New Orleans stay in one of the Sully Mansion's nine newly-renovated guest rooms surrounded by hanging live oaks, wrought iron fences, and wrap-around porches!
Capacity & Dimensions
The Interior:
800 square feet of indoor space, two-story stained glass windows and fourteen-foot ceilings
The Grounds:
Over 2,200 square feet of tropical courtyard with pavers, a wall fountain, tropical landscaping and up-lighting, plus multiple electrical outlets and access to three powder rooms.
The Porch:
A 415-square-foot porch is surrounded by lush tropical greenery and a large oak tree.
The Guest Rooms:
There are nine unique luxuriously-furnished guest rooms, three on the first floor and six on the second floor, each with a private bath.
Professional-grade Kitchen:
Outside caterers welcome.
Whole Facility Rental available for seat dinner receptions and large events.
3 hour rentals include: Use of front porch and courtyard, dining room, and kitchen.
2 night stay in bridal suite includes: Commercial kitchen + dining room for prep. Caterer and other necessary venders for approved vendor list required.